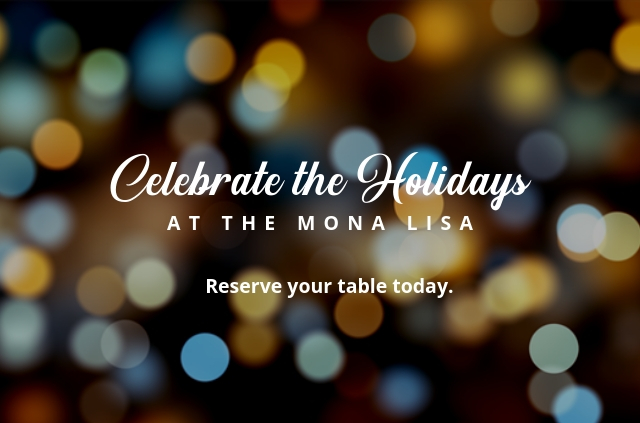 IN OUR DINING ROOM
HOLIDAYS AT THE MONA LISA
Celebrate your holidays at The Mona Lisa Fondue Restaurant where every night in December is festive, romantic, & inviting. We're open early on Christmas Eve – our first reservations available at 2 p.m. View our Christmas Eve menu below. Reservations fill up quickly.
New Years Eve is a popular and festive time at The Mona so you'll want o make your reservations right away. View our New Year prix fixe menu.
IN MONA'S CELLAR
$22 WINE & CHEESE
Enjoy a pot of cheese fondue served with bread, fresh vegetables and fruit for dipping along with 2 glasses of wine for $22.00. Offer available in Mona's Cellar only Thursday - Sunday. No reservations necessary.
HAPPY HOUR 4:30-6:30pm
in mona's cellar
One of the best Happy Hours in the Springs – $5 glasses of wine and 40% OFF food including cheese fondue, chocolate fondue, and charcuterie board. Available downstairs in Mona's Cellar 4:30p.m. - 6:30p.m. Thursday - Sunday. Happy Hour specials may not be combined with any other offer, coupon, or gift card.
IN-HOUSE SOMMELIER created
WINE FLIGHT EXPERIENCE
Our wine cellar boasts a wide array of wines from around the world. We invite you to explore new wines with a wine flight experience at The Mona, both upstairs in the dining room or downstairs in Mona's Cellar.